Members with Specials, Extended Hours & Safe Ordering/Pick Up During COVID Restrictions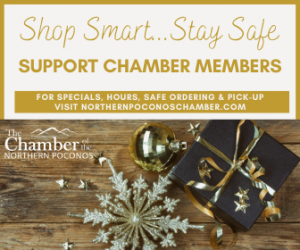 507 Country Store
288 Route 507, Tafton, PA
570-226-2021
Open Monday-Saturday 6AM-7PM
Sunday 7AM-6PM
Online ordering at http://507cstore.com/
Apple Day Spa & Salon
152 Grandview Av., Honesdale, PA
570-253-4770 Call or Text
Monday - Closed (Open some holidays)
Tuesday 9am - 5pm
Wednesday 9am - 6pm
Thursday 12pm - 8pm
Friday 9am - 5pm
Saturday 8:30am - 4pm
Sunday Closed
Offering online, phone and text orders for gift cards and all boutique items posted to Facebook and Instagram. Curbside pickup available. Call for daily specials.  Gift Cards are always the right color and size!
"We are Barbicide and Dermalogica Clean Touch certified, and have had many safety seminars to stay up to date and compliant. "The Apples" wish everyone a safe and blessed Hanukkah and Christmas."
Art's for Him & Her Too
843 Main St., Honesdale, PA
570-253-3080
Open everyday until Christmas
Monday-Friday 9AM-7PM
Saturday 9AM-5PM
Sunday 12PM-4PM
Blooming Grove Tavern
664 Blooming Grove Rd., Blooming Grove, PA
570-226-2240
Take Out Orders - Call for updated Hours
Cordaro's Restaurant
186 Grandview Ave., Honesdale, PA
570-253-3713
Open 7 Days 7AM-9PM for take out
Elgante Restaurant & Pizzeria
851 Main St., Honesdale, PA
570-253-3244
Take Out & Delivery up to 5 miles
Gresham's Chop House
2495 Route 6, Hawley, PA
570-226-1500
Please call between the hours of 3:30PM-7:30PM to place your take out order Tuesdays-Sundays.  Check for daily specials on Facebook
John's Italian Restaurant
570 Hamlin Hwy., Hamlin, PA
570-689-2659
Take Out Tuesdays-Sundays 11AM-9PM
Christmas Eve 11AM-5PM, Closed Christmas Day, New Year's Eve 11AM-7PM, Closed New Year's Day
"Your kind words and support mean the world to us. This year has definitely been challenging and we would not had made it through without YOU and our hardworking staff!"
Lake Region IGA
Routes 6 & 590, Hawley, PA
570-226-6000
Open Monday-Saturday 7AM-9PM & Sunday 7AM-8PM
Christmas Eve 7AM-6PM, Closed Christmas Day
Online Shopping - www.lakeregioniga.com
If internet not available phone orders & payment accepted.  Dedicated staff for phone orders on Tuesdays from 7AM-9AM.  You must call by 9AM for same day delivery or pickup. Deli platters and Sushi Menus on the website as well.
Gift Cards may be purchased over the phone, and will be mailed to any address.
"We carry the widest assortment of local products from our community purveyors all under one roof. You may order any of these items online as well. The list is not all inclusive, but here are a few examples; Beach Lake Bakery pies, Calkins Creamery cheeses, Creamworks Ice Cream, Ghiggerie's olive oils and balsamic, Shemanski's maple products, Mount Pleasant Herbary's soaps and organic teas, Black and Brass and Moka Origins coffees and chocolates, Tuttle Honey, Heaven Scent Candles, Hardler Farms raw goat and cow's milk, and The Alpine Wurst and Meat House meats.  One little known fact is that we offer a variety of unique gifts for under $20. From candles, to exquisitely packaged soaps, lotions and beauty products you can find that gift you're looking for without breaking your budget."
Nurnberger Bierhaus
2136 Lake Ariel Hwy., Lake Ariel, PA
Call 570-698-5144 to place an order for pick up or delivery.
Take Out & Deliver Hours: Thursday - Sunday 12-8 .
Delivering to THE HIDEOUT and 10 mile radius of restaurant. Offering a full menu.
"We are grateful for the support we have received and hope to be opening full time indoor dining when restrictions are lifted. Ty for all support! Gift cards available for purchase. Catering available for the holiday season."
Past Impressions
595 Easton Tpke., Lake Ariel, PA
570-689-4123
Mondays 9AM-4PM
Thursdays & Fridays 10AM-4PM
Saturdays 10AM-5PM
Sundays 11AM-5PM
Gift Certificates available for phone order and mailed our curbside pick up.
"We are offering private appointments for anyone who does not want to shop during regular shop hours."
Paulie's Hot Dogs
403 Park St., Honesdale, PA
570-253-1998
Open Mondays-Saturdays 10:30AM-12:00AM for take out and delivery
R Place on 590
482 Hamlin Hwy., Hamlin, PA
570-689-6200
Open 7 Days 11AM-8PM for take out orders
"Thank you for the support for the past 8 months of this madness!! Happy Holidays! Everyone Stay Safe!"
Shemanski Maple Syrup Sugarhouse & Gift Shop
35A Belmont St., Waymart, PA
Open extended hours ~ Christmas Trees ~ Online Ordering at https://shop.shemanskimaple.com/  
Spanky's Restaurant
960 Main St., Newfoundland, PA
570-676-0399
Open 7 Days 6AM-2PM for take out
The Alpine Wurst & Meat House
1106 Texas Palmyra Hwy., Honesdale, PA
570-253-5899 ext, 1 or email info@thealpineonline.com
Online Orders at https://thealpineonline.c
Pre-Order for Christmas - turkeys, turkey breast, ham, filet mignons, rib roasts, etc.  Turkeys must be ordered by Dec. 16th.
The Boathouse Restaurant
141 Route 507, Hawley, PA
570-226-5027
Monday 3PM - 9PM
Tuesday 3PM - 9PM
Thursday 3PM - 9PM
Friday 3PM - 9PM
Saturday 12PM- 9PM
Sunday 12 PM - 9PM
Takeout menu and cocktails to go : https://hubs.ly/H0CtcZY0
Twisted Rail Tavern
505 Main St., Honesdale, PA
570-253-9923
Open 7 days a week 11AM-8PM
https://www.facebook.com/twistedrailtavern
Free delivery within 5 miles on food orders over $15. Online orders at https://my-site-100876-107958.square.site/s/order
Wallenpaupack Brewing Company
73 Welwood Ave., Hawley, PA
570-390-7933
Open Thursdays - Mondays 12PM-7PM for TAKEOUT ONLY including Beer, Food, Merchandise & Gift Cards. You can also purchase beer, food, merchandise and gift card orders online (please visit our website for links and details) or by calling our brewpub. Shipping of merchandise (nationwide) and beer (PA addresses only) will continue to be available. www.wallenpaupackbrewingco.com
Waymart Hotel
205 Carbondale Rd., Waymart, PA
570-488-6585
Open 7 Days for Take Out
Sundays-Thursdays 10 AM - 9 PM
Fridays & Saturdays 10AM - 10PM
Online orders at https://waymarthotel.com/?fbclid=IwAR1CEvGiXhDxfLgk674AprKeMzOAfzitzkpzXeH6Y_JlOaawq9J0I1iLzlU